Tips to Ensure your Printer Runs Smoothly
Loading Paper
When you open a new package of paper, fan the sheets to separate them slightly prior to loading.
Fan the paper, then tap it on a level surface.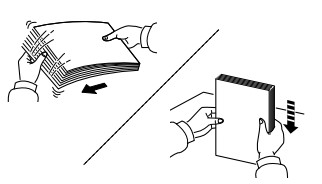 IMPORTANT
Paper that is curled or folded may cause a jam. Avoid exposing opened paper to high humidity as dampness can be a cause of problems.
When loading paper into the multipurpose tray, check that there is no paper left over in the tray from a previous job before loading the paper. If there is just a small amount of paper left over in the tray and you want to add more, first remove the left-over paper from the tray and include it with the new paper before loading the paper back into the tray.
If there is a gap between the paper and the paper width guides, readjust the guides to fit the paper in order to prevent skewed feeding and paper jams.
Ensure that the loaded paper does not exceed the load limit
Clearing Paper Jams
It is very important to pull any jammed paper out gently with two hands to avoid any tearing of the paper which may remain inside the machine and cause further problems. If the paper tears, be sure to remove any loose scraps of paper from inside the machine.
Refer to the Operation Guide for the procedures to clear a paper jam from your machine.
Kyocera Operation Guide for P2235dn
Kyocera Operation Guide for M5526cdn
Black Lines on your Scans?  How to Clean the Glass Platen, Slit Glass and Reading Guide
Clean the machine regularly to ensure optimum printing quality. CAUTION!  For safety, always unplug the power cord before cleaning the machine.
Cleaning Glass Platen – Wipe the inside of the document processor and the glass platen with a soft cloth dampened with alcohol (methylated spirit) or mild detergent. Do not use thinner or other organic solvents.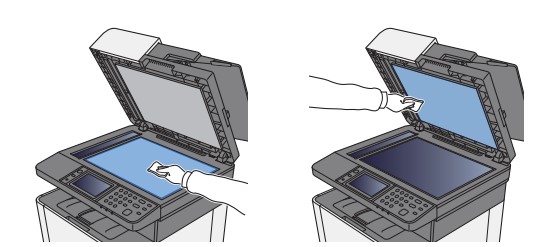 Cleaning the Slit Glass – Dirt on the slit glass or the reading guide may cause black streaks to appear in the output. When using the document processor, clean the slit glass surface and the reading guide with a dry cloth. Do not use water, soap or solvents for cleaning.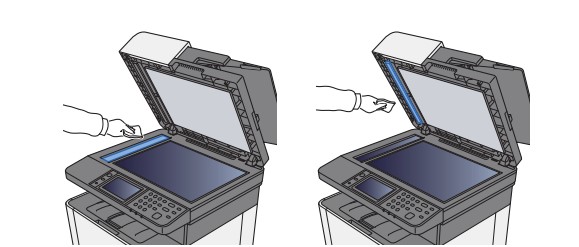 How to Replace Toner
For information on how to change toner in the Kyocera P2235 and the Kyocera M5526 click on the links below
Kyocera P2235cdn Replace Toner PDF